Address: 1080 Brickell Avenue
Price Range: N/A
Year Built: 2015
Completion Date: Fall 2015
Developer: RILEA Group
Bedrooms: 1 - 3
Floors: 44
Total Units: 323

Area: Brickell
Rental Price Range: $2,700-$9,750
Status: Re-Sales



Unit
Price
Beds
Baths
Half-Baths
Interior Space
$sf/$m²
MLS Number
3805
$450,000
0
1
0
506sf / 47m²
$889sf / $9,573m²
A11481599

Unit
Price
Beds
Baths
Half-Baths
Interior Space
$sf/$m²
MLS Number
4202
$750,000
1
1
1
830sf / 77m²
$904sf / $9,727m²
A11453741
2602
$730,000
1
1
1
905sf / 84m²
$807sf / $8,683m²
A11435846
4004
$730,000
1
1
1
830sf / 77m²
$880sf / $9,467m²
A11490102
2103
$630,000
1
1
0
748sf / 69m²
$842sf / $9,066m²
A11376509
1403
$585,000
1
1
0
748sf / 69m²
$782sf / $8,419m²
A11413921

Unit
Price
Beds
Baths
Half-Baths
Interior Space
$sf/$m²
MLS Number
2700
$999,999
2
2
0
1129sf / 105m²
$886sf / $9,534m²
A11408266
1801
$915,000
2
2
0
1134sf / 105m²
$807sf / $8,685m²
A11488802
2909
$900,000
2
2
0
1134sf / 105m²
$794sf / $8,543m²
A11483006
2008
$890,000
2
2
0
1129sf / 105m²
$788sf / $8,486m²
A11453774

Unit
Price
Beds
Baths
Half-Baths
Interior Space
$sf/$m²
MLS Number
2900
$1,525,000
3
3
0
1593sf / 148m²
$957sf / $10,305m²
A11488921
3806
$1,500,000
3
3
0
1593sf / 148m²
$942sf / $10,136m²
A11284206

Unit
Price
Beds
Baths
Half-Baths
Interior Space
$sf/$m²
MLS Number
3900-3901
$2,449,000
4
4
1
2727sf / 253m²
$898sf / $9,667m²
A11398603


Unit
Price
Beds
Baths
Half-Baths
Interior Space
$sf/$m²
MLS Number
2405
$2,850
0
1
0
507sf / 47m²
$6sf / $61m²
A11431622
4105
$2,700
0
1
0
506sf / 47m²
$5sf / $57m²
A11476372
1405
$2,700
0
1
0
507sf / 47m²
$5sf / $57m²
A11489842

Unit
Price
Beds
Baths
Half-Baths
Interior Space
$sf/$m²
MLS Number
4207
$7,000
1
1
0
748sf / 69m²
$9sf / $101m²
A11485853
4003
$4,400
1
1
0
748sf / 69m²
$6sf / $63m²
A11491992
4103
$4,390
1
1
0
748sf / 69m²
$6sf / $63m²
A11464746
3004
$4,200
1
1
1
881sf / 82m²
$5sf / $51m²
A11488048
2004
$4,100
1
1
0
770sf / 72m²
$5sf / $57m²
A11444203
1904
$3,800
1
1
0
770sf / 72m²
$5sf / $53m²
A11461973
1407
$3,750
1
1
0
796sf / 74m²
$5sf / $51m²
A11466528
707
$3,650
1
1
1
950sf / 88m²
$4sf / $41m²
A11486558

Unit
Price
Beds
Baths
Half-Baths
Interior Space
$sf/$m²
MLS Number
4009
$6,900
2
2
0
1134sf / 105m²
$6sf / $65m²
A11483321
3801
$5,990
2
2
0
1134sf / 105m²
$5sf / $57m²
A11486238
2008
$5,950
2
2
0
1129sf / 105m²
$5sf / $57m²
A11491376
2609
$5,500
2
2
0
1134sf / 105m²
$5sf / $52m²
A11459479

Unit
Price
Beds
Baths
Half-Baths
Interior Space
$sf/$m²
MLS Number
2900
$9,750
3
3
0
1593sf / 148m²
$6sf / $66m²
A11476935
3506
$8,000
3
3
0
1593sf / 148m²
$5sf / $54m²
A11481976

A Prestigious Tower with 44 floors and 328 residences
Interior Design by Loguer
Featuring the Terry O'Neill Photo Collection
Private Art Collection including Sculptures by Tatiana Blanco
High Speed Elevators
Concierge Services with access to your world and beyond
Elegant lobby with an Abbey Road Entrance and 20'Bond Topiary
Resident lounge with refreshments, newspapers and daily coffee in lobby
Assigned self parking and complimentary valet
Resort style landscaping at pool area
Zero edge lap pool with relaxation areas featuring outdoor music
Spectacular waterfall on pool area to create soothing sound and spectacular view complimenting the cityscape of Miami and the blue waters of Biscayne Bay.
Indoor/Outdoor soaking tub for the ultimate privacy and experience
Super-cabanas and outdoor fireplace
The Parliament including cinema screening with 3D surround sound and digital projection tech
Executive Business Center
Children's room
State of the Art health and wellness fitness center including Life Fitness equipment
Smart building technology and ultra efficient windows
Total property WiFi broadcast for common area enjoyment, AirPlay Library in The Parliament Lounge with Pandora, Spotify and shared playlists
Actual Museum Quality British Red Phone Booth
Valet
Security and 24-hour fob access to all private areas

Climate efficient windows
Curated floorplans for comfort and lifestyle
Residences delivered decorator ready for your style
Floor-to-ceiling glass Windows in most residences.
Spectacular foyers in select residences
Spacious terraces with glass and aluminum railing accessible from most rooms
Floor-to-ceiling glass sliding doors to the terrace.
Smooth finish ceilings that are nine feet high in residences and 12 feet in penthouses
Advanced central air conditioning and heating for perfect climate control
Spacious walk-in closets with double door entry in select residences
Pre-wired for next generation communications, television and telephones.
Kitchens
Concealed built in Bosch microwave with convection oven
Bosch Stainless dishwasher with integrated design to cabinetry
Bosch built in contemporary oven 
Built in Bosch variable speed range hood
Touch control glass cook top by Bosch for the perfect temperature control for the chef in you.
Bosch built in stainless steel refrigerator
Sleek under mounted zero edge sink in stainless steel 
European styled cabinetry
Silestone countertops with full backsplashes
Lifestyle kitchen design that opens to living and dining rooms for entertaining.
Breakfast bar
Bathrooms
Premium European styled cabinetry with Silestone vanity tops and full size mirrors
Double sink vanity tops in select residences
Frameless glass enclosures in master baths of select residences
Luxury porcelain flooring, base and walls in wet areas
Designer faucets by Porcelanosa
Powder room in select residences
Floor Plans / Floors 14 - 28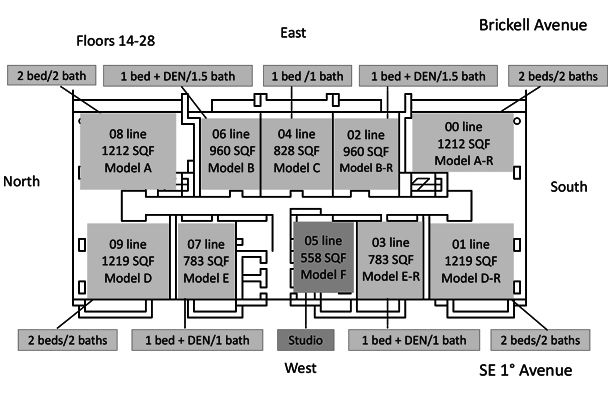 Unit#
Model
Bedrooms
Bathrooms
Half-Baths
SqFt / M² A/C
SqFt / M² Total
06 
B
1 1 Den
1
1
0sf / 0.00m² 
960sf / 89.18m² 
02 
B-Rev
1 1 Den
1
1
0sf / 0.00m² 
960sf / 89.18m² 
04 
C
1
1
0sf / 0.00m² 
828sf / 76.92m² 
07 
E
1 1 Den
1
0sf / 0.00m² 
783sf / 72.74m² 
03 
E-Rev
1 1 Den
1
0sf / 0.00m² 
783sf / 72.74m² 
05 
F
  1 Studio
1
0sf / 0.00m² 
558sf / 51.84m² 
09 
D
2
2
0sf / 0.00m² 
1,219sf / 113.25m² 
01 
D-Rev
2
2
0sf / 0.00m² 
1,219sf / 113.25m² 
08 
A
2
2
0sf / 0.00m² 
1,212sf / 112.59m² 
00 
A-Rev
2
2
0sf / 0.00m² 
1,212sf / 112.59m² 
Floor Plans / Floors 29 - 43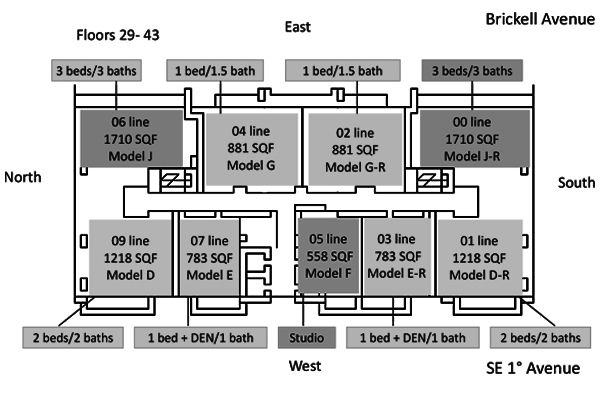 Unit#
Model
Bedrooms
Bathrooms
Half-Baths
SqFt / M² A/C
SqFt / M² Total
04 
G
1
1
1
0sf / 0.00m² 
881sf / 81.84m² 
02 
G-Rev
1
1
1
0sf / 0.00m² 
881sf / 81.84m² 
07 
E
1 1 Den
1
0sf / 0.00m² 
783sf / 72.74m² 
03 
E-Rev
1 1 Den
1
0sf / 0.00m² 
783sf / 72.74m² 
05 
F
  1 Studio
1
0sf / 0.00m² 
558sf / 51.84m² 
06 
J
3
3
0sf / 0.00m² 
1,710sf / 158.86m² 
00 
J-Rev
3
3
0sf / 0.00m² 
1,710sf / 158.86m² 
09 
D
2
2
0sf / 0.00m² 
1,218sf / 113.15m² 
01 
D-Rev
2
2
0sf / 0.00m² 
1,218sf / 113.15m² 
Floor Plans / Floors 3 - 11
Unit#
Model
Bedrooms
Bathrooms
Half-Baths
SqFt / M² A/C
SqFt / M² Total
07 
Loft D
1
1
1
0sf / 0.00m² 
967sf / 89.83m² 
09 
Loft E
1
1
1
0sf / 0.00m² 
788sf / 73.21m² 
03 
Loft B
1
1
1
0sf / 0.00m² 
728sf / 67.63m² 
11 
Loft B-Rev
1
1
1
0sf / 0.00m² 
728sf / 67.63m² 
01 
Loft A
1
1
1
0sf / 0.00m² 
1,129sf / 104.88m² 
13 
Loft A-Rev
1
1
1
0sf / 0.00m² 
1,129sf / 104.88m² 
05 
Loft C
1
1
1
0sf / 0.00m² 
1,031sf / 95.78m²